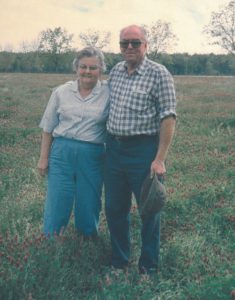 In 1860, Harris ancestors purchased land in the Wayne County area of Southeast Georgia. Through the years, one family member from each generation has purchased the land from the previous generation. This allows them to continue to farm the land and raise cattle.
In 1942, Winton, a fourth generation Harris, and his wife, Emily, established a Polled Hereford herd thus making Greenview Farms the oldest, continuously active Polled Hereford breeder in the state of Georgia. Winton was a keen cattleman and farmer who was very successful in producing cattle that were fed by foraging and grazing alone.
Additionally, Winton and Emily continued to have active roles in the operation of the farm until their deaths. Their love of agriculture was passed down to their son, Jonny and grandson, Paul. Together they continue the operation of Greenview Farms along with family.